¿Quién está en línea?
En total hay
2
usuarios en línea: 0 Registrados, 0 Ocultos y 2 Invitados
Ninguno
La mayor cantidad de usuarios en línea fue
198
el Mar Feb 15, 2011 2:09 am.
Sabado 05 de FEBRERO!!
CENTRO EVENTOS BAL LE-DUC
AV MATTA 129 A DOS CUADRAS DE VICUÑA MACKENNA
[[ PISTA CENTRAL ]]
INTRODUCCION DESDES LAS 23 HRS
TACTICAL SEKT
INDUSTRIAL/EBM/ELECTRO INDUSTRIAL/POWER NOISE
And One, Evil's Toy, VNV Nation, Apoptygma Berzerk, Assemblage 23, Front 242, Die Krupps, DAF, Nitzer Ebb, Skinny Puppy, Front Line Assembly, E-Craft, Ministry, Suicide Commando, Industrial Company inc, Spetsnaz, Deathstar, Marilyn Manson, Nine Inch Nails, Alien Vampires, XP8, Combichrist, [X]-rx, Terrorfakt, Agonoize, Reaxion Ruerrilla, Straftanz, Aesthetic Perfection, Schallfaktor, Feindflug, Centhron, Modulate, X-Fusion, Manufacture, Nachtmahr, Cyborg Attack, Dawn of Ashes, Soman, Tactical Sekt, Atari teenage riot, mas...
[Especiales]
SOMAN & VNV NATION
BLOQUE ESPECIAL
MINISTRY
PERFORMANCES A CARGO DE MISS HIPOKONDRIAK
& LAtex PRoject (LATEX QUÍMICO)
http://www.facebook.com/photo.php?pid=182552&id=100000219432519
[[ PISTA DOS ]]
Dj Nionner/ Dj misantrophia / Dj Kand
INTRODUCCIÓN DESDE LAS 23:00 HRS
DIVA DESTRUCTION
The Sisters of Mercy, Joy Division, London After Midnight, Cabaret Voltaire, The Cruxshadows, Faith and the Muse, Siouxsie & The Banshees,Bauhaus, The Cure, Clan Of Xymox, The Frozen Autumn, Lacrimosa,45 Grave, Alien Sex Fiend, Christian Death, Skeletal Family, Specimen, Echo & the Bunnymen, The Cramps, Xmal Deutschland, Mephisto Waltz,
Corpus Delicti, The Clash, Eyaculacion Post Mortem, mas...
[Especiales]
XMAL DEUTSCHLAND/THE SISTER OF MERCY
BLOQUE ESPECIAL
NEW ORDER
http://WWW.BAL-LE-DUC.CL
$2000 HASTA LAS 00:30
$3000 GENERAL
COLABORA:
http://WWW.UND3R.CL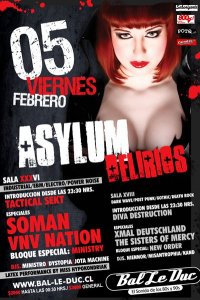 ---
Permisos de este foro:
No puedes
responder a temas en este foro.